JUNCKERS SPORTS FLOOR SYSTEMS
GENERAL INFORMATION
---
INFORMATION SPORTS FLOOR SYSTEMS
D 1.0

General information,
Sports Floor Systems

D x.x

Specifier's and Installation
Instructions
Table 1
FLOOR SYSTEMS
Junckers sports floors can be installed according to one of the three below listed
methods:
22 mm solid hardwood 2-strip floor boards, laid as a floating floor on a resilient underlay and assembled by means of steel clips.
22 mm solid hardwood 2-strip floor boards, nailed to prefabricated resilient batten systems.
Portable floor, 22 mm solid hardwood 2-strip floor panels.
Floating floors are laid on a screeded subfloor. Construction height from 19 mm.
Floors nailed to batten systems can be installed directly on a screeded subfloor or levelled up, e.g. with one of Junckers patented wedge systems. Construction heights from 45 mm.
Portable floors can be delivered either as a floating floor system or with pre-fixed battens.
All Junckers sports floors are tested and conform to the European Sports Norm EN 14904.
This data sheet contains general information valid for all of Junckers Sports floor systems. Detailed information regarding individual floor systems must be found in the belonging specifier and laying instructions.
Full information for a specific floor system is therefore not complete, until all data sheets
have been read, see table 1.
CLIMATIC CONDITIONS
Junckers solid hardwood floors can be laid in humidity conditions ranging from 25 to 85 %relative humidity (RH).
In order to minimize movements of the floor, due to changes in the humidity, the humidity range should not vary more than 30 % RH across the year. Examples of humidity ranges are: 25‑50 %, 35‑65 % and 60‑85 % RH.
In addition to this, the relative humidity should be stable for extended periods of time during the year.
The humidity level of sports facilities, e.g. sports halls and gyms, is usually equivalent to the conditions in residential buildings, e.g. 35-65 % RH (UK).
Parameters such as operating temperature and method of ventilation used during the year determine whether the humidity level can be maintained naturally or must be controlled in certain periods.
Should deviations from above be expected, it is advisable to contact Junckers Technical Service Department.
Please note that all types of hardwood floors will expand when the relative humidity in a room increases, and conversely contract when the relative humidity decreases. During a normal seasonal cycle, the moisture content in a floor will fluctuate and may especially in the winter season result in occasional minor gaps between floor boards.
---
COVERING OF THE FLOOR
Covering the floor during the construction period is usually not necessary. If a cover is considered to be necessary, it should be carried out in accordance with the following recommendations:
Point Loads, e.g. legs, static wheels.
In order to prevent damage to the floor it may be necessary to use pressure distributing plywood, or metal plates to spread the load.
The flat side of the plywood or metal plate must be placed against floor surface. By risk of spillage of liquids, it is recommended to place a waterproof covering on top of the plywood or metal plate.
For specific advice on protection contact Junckers technical department.
Ordinary covering of the Floor
Use a breathable covering where possible, eg, cardboard, ply, hardboard etc.
If protection from extensive spillage is needed a waterproof covering may be used e.g. polythene. Ensure that the covering is laid flat and that there are no creases or seams that may cause indentations to the floor under load.
Ensure also that the covering does not have printing or anything similar which may transfer to the surface of the floor. For floors with under floor heating use only a breathable covering and the thinnest type possible so as to prevent the floor from over heating.
---
USE OF TAPE AND LOGOS
Adhesive on tape and logos often have a very high tack value and can therefore damage the lacquer on the floor if the tape or logo is pulled off quickly.
Always use low tack adhesive tapes and logos, e.g. a removable film with a tack value of max. 7N/25mm.
Use a removal angle of <90° for optimal results.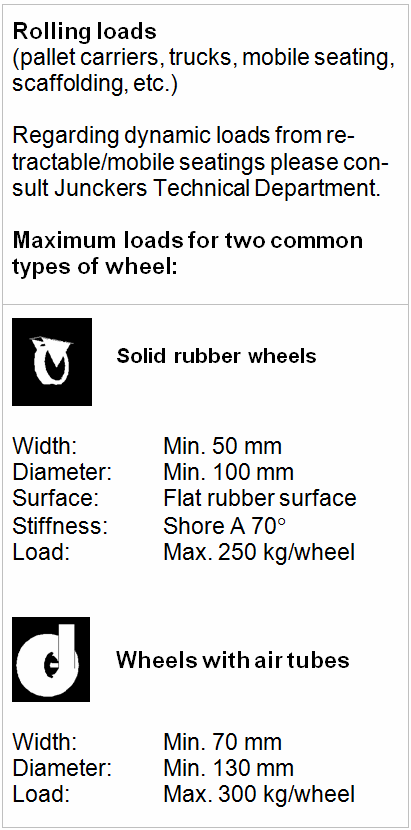 STIFFNES AND LOAD-BEARING STRENGTH
Junckers sports floors are designed to provide good conditions for sporting activity and adequate load bearing strength for the expected loads on the floor surface in connection with sports activities.
The functional properties of the individual floor systems, especially their impact absorption and elasticity, depend on e.g. the structural design and are documented via tests in accordance with known standards.
The floor systems' bearing strength is stated in the Specifier's Information for the individual floor systems.

The Specifier's Information datasheets for the individual batten systems specify a board bond pattern which must be complied with exactly in order to achieve maximum bearing strength.
Trampolines
Trampolines should be equipped with "shoes/feet's" with a flat area of min. 200 x 200 mm to distribute the load.
Retractable seating
On specification it must be considered whether inappropriately high deflection can occur
in connection with heavy loads, e.g. from mobile stands, which can reduce the floor and
the tribunes functional capability.
In that case the stiffness of batten floors can be increased, e.g. by installing extra battens and/or fixing of inelastic packing. For floating floors the resilient underlay can be replaced by a non-resilient underlay, e.g. plywood.
If reinforcement is required in the playing zone it should be designed in a way where the elasticity of the floor is maintained.
Exhibitions and fairs
In the case of heavy loads, in connection with exhibitions or fairs, the bearing strength of
the floor systems can be increased by overlaying the floor with additional load distributing covers such as plywood.
Rolling loads
The Specifier's Information datasheets provide information on rolling loads on floor systems.
Specification of the two common wheel types on rolling equipment, see fig. 1.
Never use nylon wheels, metal wheels any kind of wheels with a hard surface without using a cover to protect the floor.
Rolling loads must always be moved with caution. Heavy loads demand pressure distributing covers, e.g. 21 mm plywood.
Scaffold towers or scissor lifts.
Please consult Junckers for information regarding scaffold towers or scissor lifts.
LINE MARKING PAINT AND LACQERING
For marking up courts use Junckers Sports Line. The line marking paint is available in white, yellow, red, blue, green and black.
Junckers prefinished lacquered floors have a hard-wearing factory applied 2-component polyurethane lacquer surface, and require no treatment prior to use.
However to protect line markings and damage, which may be caused by floor washing machines and resin cleaner, it is however recommended to apply one coat of Junckers HP Sport lacquer before starting to use the floor.
Read more about Junckers HP sport in F 8.2.
---
CLEANING AND MAINTENANCE
The floor must be regularly swept and vacuumed, and when necessary wiped with a wellwrung out mop or cloth.
For larger floors a scrubber dryer machine can be used.
Do not use a floor washing machine before the floor has been overcoated and is completely dry. This also applies to cleaning before applying line marking paint and a following lacquering.
Read more about cleaning and maintenance in i G 8.0.
---
LIABILITY
The information provided in the Junckers Technical Information applies to specification of building materials/components as well as functional aspects of floor structures which include Junckers boards.
Junckers Industrier A/S accepts no liability for functional characteristics of floor structures of which the materials or use deviate from the specifications, or of which the construction deviates from the directions given.
Installation
Floor boards must be carefully inspected for material defects under optimum lighting conditions before and during installation.
Under no circumstances should products with visible defects be installed. Installation express acceptance.
---
QUESTIONS
Do you need advice before, during and after installation, contact Junckers Technical Service.